Diamond earrings, unlike engagement rings or wedding bands, are often changed–allowing for an endless combination.
This guide is the ideal companion when shopping for a set of diamonds earrings for women, or even working with a company like to custom craft your perfect pair.
Diamond stud earrings
Stud earrings, or solitaire earrings, are the standard classic style of these earrings. They usually consist of a single stone worn near to the ear, making them perfect for daily wear.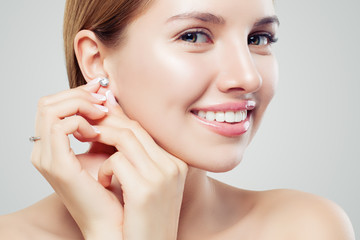 Studs typically secured with a force or screw backing. Push-back earrings can be worn quickly and efficiently. While screw-back earrings offer an additional layer of security, perfect for larger 2-carat diamond earrings.
The simplicity of diamond studs make them the best gift because they flatter all ages, face shapes, and skin tones and are a perfect introductory gift for those unfamiliar with earrings.
Diamond hoop earrings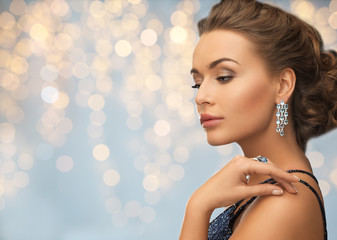 Hoop earrings are earrings that come together circularly. Diamond hoops exist in a variety of sizes, with considerable dramatic hoops perfect for special occasions. And small dainty hoops, ideal for everyday wear.
While simple metal-only hoop earrings are also fashionable, hoop earrings can be set with gemstones or diamonds for extra sparkle.
A more modern version of this style can be asymmetrical, have woven metal elements, or any number of beautifully modern designs.
One method worth knowing is the J hoop. Which may be more practical for women who work in an office setting. These manage to sit closer to the earlobe and don't complete the circle. Instead, they create this illusion with a J shape that curls under the earlobe.
Diamond drop earrings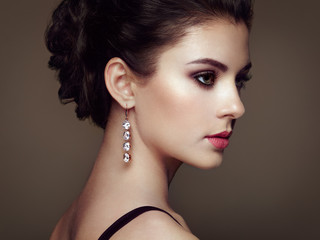 Drop, or dangling, earrings are earrings that typically hang under the earlobe. Drop earrings can fashion in a variety of lengths and shapes, making them fitting for casual or formal events.
Diamond halo earrings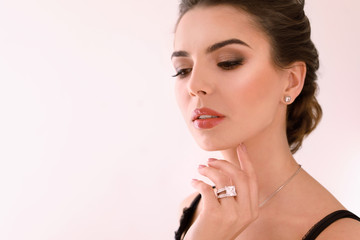 Halo earrings typically include a single central gemstone surrounded by a circle–or halo–of other complementary gemstones.
While halo earrings are more exciting than studs. They are still a practical choice for daily wear because they sit on the ear. Halo earrings can also fashion in a drop style, with the halo part of the earring dangling below the ear.
Which metal should you choose?
The metal choice is another major factor in selecting or crafting your earrings. And they're generally available in a variety of stunning metals such as white gold, yellow gold, rose gold, and platinum.
White gold is a lighter metal and thus an excellent choice for younger girls or those with smaller earlobes. Yellow gold works well with any gemstone or diamond color. But its warm hue is uniquely suited to emphasize the color of green and red gemstones.
Rose gold is a light pinkish metal that looks beautiful against both light and dark skin tones. While diamond earring designs would pair rose gold with gemstones of any color. This metal popularly used with warmer toned gems and diamonds.
The fresh luster of platinum makes it an exquisite choice for real diamond earrings. While platinum's high density makes it a stunning and attention-getting choice, consider avoiding platinum if your earlobes cannot carry heavier earrings.
If you are using Gems Story education, and you will easily understand. The objective of Gems Story is to provide you the best quality content and awareness.
Follow on social media: Facebook Twitter Instagram Pinterest